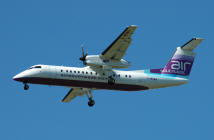 Newquay Airport Taxis
A2B Taxis and Minibuses are based in close proximity to Newquay Airport. We operate a large fleet of modern, very well maintained taxi vehicles, specialising in transfers to and from
Newquay Airport and covering all destinations in Newquay and taxi services throughout Cornwall. If you are thinking of travelling further a-field we can offer highly discounted National taxi fares.

We offer a professional, friendly and reliable service, using the very latest in online taxi quote, bookings and taxi despatch using fully computerised technology.
All incoming flights to Newquay Airport are tracked and monitored so that we can adjust accordingly your taxi to any unexpected delays to your arrival time.
Thanks to our extremely competitive pricing policy and consistently high standards of customer care, A2B Taxis are now firmly established as one of the most trusted and reliable Taxi Company's in Cornwall.
Please note that our Newquay Airport Taxi Transfer prices are up to 30% cheaper than the Metered fares set by Cornwall County Council and charged by most Newquay Taxi Companies.
We have discounted set taxi fares to all destinations and you can rest assured that you will not be charged extras for luggage when you pre book your Newquay Airport Transfer with A2B. Get your Taxi Quote NOW!
Please contact our Call centre on 01637 875555 or e-mail us enquiries@newquaytravel.co.uk for a fast response quote
---
A2B Newquay airport Taxis is a Friendly Taxi and Minibus Company which provide a taxi transfer service for Newquay airport. The Newquay airport taxi transfer vehicles are of a very high standard. The Newquay airport taxi transfer service runs 24hrs with booking, and discounts will be given to return customers. Let A2B Newquay help you to make the most of your holiday in Cornwall by taking the stress out of travelling from Newquay airport to your destination.